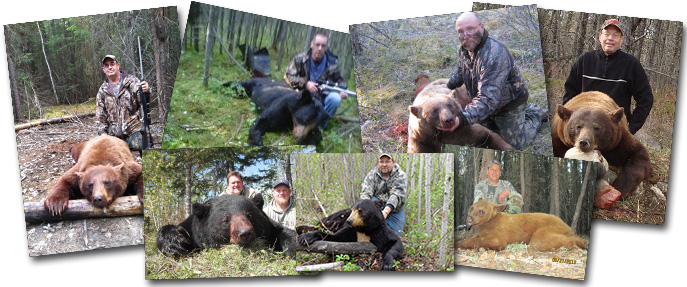 Now taking bookings for 2019 and 2020.
The hunt starts on a Sunday and runs until Friday, with Sunday being arrival and departure on Saturday. Some seasons find us harvesting 50-65 % off-coloured bears, depending on which baits are being hunted.
Accommodations are rented cabins at Cooks Campground and Moak's Lodge. Transportation and access to stand locations is provided by any combination of ATV's, Side by Side's or truck. Depending on your stand location you may travel a distance up to 15 miles.
Walking distance to your stand location typically ranges 10-50 yards. The hunting area is mostly flat, very remote and limited tag quotas assure trophy quality runs high!
Black flies are usually not a problem, however, we do have our fair share of mosquitos for three weeks in spring. I suggest bringing a thermacell and refills.
Spring season runs from mid-May through mid-June. This includes a six day hunt at very productive baits, all skinning and hide care, transportation to and from baits, and a comfortable stay. There is also a wound policy in effect.
We will try very hard to retrieve a wounded animal, but if it is not found, it is considered a kill and the hunt is over. Non-hunters welcome to accompany you in the cabin for $750. Total Cost is final, no exceptions.
For $150 an additional guide will accompany you to film your hunt with your camera.
$300USD fine for losing a radio.